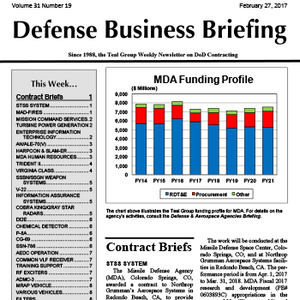 Defense Business Briefing
With each timely issue, you receive:
Contract Briefs
Details of the past week's most important contracts, including information on how many companies were solicited, when and how companies submitted bids, who won and much more.
Contract Summaries
The past week's contracting activity listed by both company and contract category.
Comprehensive Contract Listing
Reports of all actions from the previous week pertaining to unclassified DoD prime contracts valued at $5 million or more, alphabetized by company.
In the News
Late-breaking DoD business news. An invaluable compendium of detailed information on critical Pentagon business, the data contained in Defense Business Briefing cannot be found in any other publication, including government press releases.
---
We Also Recommend