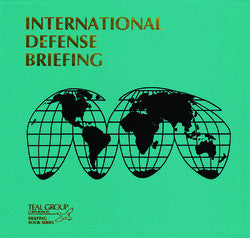 International Defense Briefing
Authored by Steven Zaloga, Teal Group's International Defense Briefing is a monthly-updated information service consisting of reports that track the status and outlook of the international defense budgets, arms imports and weapons markets for over 130 countries.
Each country report includes information describing the basic details of the country's government, major factors affecting its defense posture, an inventory of its major weapons holdings, details of defense budget and expenditures including Foreign Military Sales (FMS) from the United States, and a survey of its major weapons acquisition programs. A defense budget and major equipment forecast is provided along with a "Teal Group Analysis" explaining our rationale for the forecasts.
The world overview report contains a compilation of the budget forecasts. The program reports are organized in sections by region (e.g., Africa) and within sections, alphabetically by country name. Most of the countries of the world are covered in International Defense Briefing except for the United States which is covered in extensive detail in other Teal Group products.
---
We Also Recommend