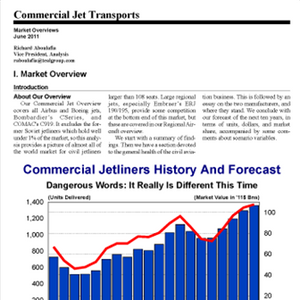 Market Overview: Commercial Jet Transports
Our Commercial Jet Overview covers all Airbus and Boeing jets, Bombardier's CSeries, and COMAC's C919. It excludes the former Soviet jetliners which hold well under 1% of themarket, so this analysis provides a picture of almost all of the world market for civil jetliners larger than 108 seats.
Large regional jets, especially Embraer's ERJ 190/195, provide some competition at the bottom end of this market, but these are covered in our Regional Aircraft overview. We start with a summary of findings. Then we have a section devoted to the general health of the civil aviation business. This is followed by an essay on the two manufacturers, and where they stand. We conclude with our forecast of the next ten years, in terms of units, dollars, and market share, accompanied by some comments about scenario variables.
---
We Also Recommend